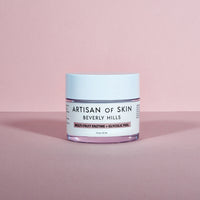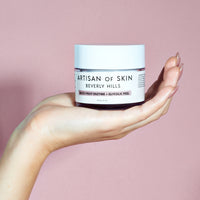 AOS Multi Fruit + Glycolic Peel
What is it?
A limited edition at-home peel made with a formulation of Glycolic, Lactic, and Salicylic Acid in combination with potent Fruit Extracts. Smells like fall with notes of pumpkin, cinnamon and spice.
What does it do?
Formulated to provide 𝘥𝘦𝘦𝘱 𝘦𝘹𝘧𝘰𝘭𝘪𝘢𝘵𝘪𝘰𝘯, allowing acids to effortlessly 𝘱𝘦𝘯𝘦𝘵𝘳𝘢𝘵𝘦 𝘤𝘭𝘰𝘨𝘨𝘦𝘥 𝘱𝘰𝘳𝘦𝘴 and 𝘢𝘴𝘴𝘪𝘴𝘵 𝘪𝘯 𝘤𝘦𝘭𝘭 turnover. Used weekly or bi-monthly as an 𝘢𝘵-𝘩𝘰𝘮𝘦 𝘤𝘩𝘦𝘮𝘪𝘤𝘢𝘭 𝘱𝘦𝘦𝘭 treatment.
What else do you need to know?

•𝗘𝘅𝗳𝗼𝗹𝗶𝗮𝘁𝗲𝘀 surface layer of dead and damaged skin cells
•Dissolves buildup in the pores 
•Tightens up the pores 
•𝗕𝗶𝗻𝗱𝘀 𝗺𝗼𝗶𝘀𝘁𝘂𝗿𝗲 to the skin
•𝗦𝗼𝗳𝘁𝗲𝗻𝘀 the appearance of 𝗳𝗶𝗻𝗲 𝗹𝗶𝗻𝗲𝘀 𝗮𝗻𝗱 𝘄𝗿𝗶𝗻𝗸𝗹𝗲𝘀
•𝗜𝗺𝗽𝗿𝗼𝘃𝗲𝘀 𝘁𝗲𝘅𝘁𝘂𝗿𝗲 and tone
•𝗛𝗲𝗹𝗽𝘀 𝗱𝗿𝗶𝘃𝗲 highly refined extracted ingredients that have been added to Peel (𝗮𝗻𝘁𝗶𝗼𝘅𝗶𝗱𝗮𝗻𝘁𝘀, 𝘃𝗶𝘁𝗮𝗺𝗶𝗻𝘀 & 𝗻𝘂𝘁𝗿𝗶𝗲𝗻𝘁𝘀) 𝗶𝗻𝘁𝗼 𝘁𝗵𝗲 𝘀𝗸𝗶𝗻
•Helps 𝗱𝗲𝘀𝘁𝗿𝗼𝘆 𝘀𝘂𝗿𝗳𝗮𝗰𝗲 𝗮𝗿𝗲𝗮 𝗯𝗮𝗰𝘁𝗲𝗿𝗶𝗮
•𝗣𝗿𝗲𝗽𝗮𝗿𝗲𝘀 𝘀𝗸𝗶𝗻 for more aggressive treatments
KEY INGREDIENTS:

▷Glycolic + Fruit Acids: Pushes congestion out of the pores, increases skin cell renewal, anti-bacterial, improves hydration, and polishes off the skin.
▷Lactic Acid: Helps improve the skins natural moisture factor and other factors that contribute to dull and uneven skin complexion. Promotes skin renewal and tightening.
▷Salicylic Acid: Helps with collagen production, breaks up the dirt and debris that make up blackheads. Diminishes the appearance of sun damage, helps slough away superficial cells.
▷Bisabolol: Anti-inflammatory agent. Derived from chamomile and yarrow.
2 oz.
THE BEST EVER
This peel is truly my favorite ever!!! Not only does it smell amazing, but the results speak for itself. If you want glass skin, this is the product for you. I recommend it to all of my family and friends, and now am recommending to all of you because it truly is THAT good
MUST HAVE!
If I could only bring one product on a deserted island with me, this would be it! Instantly brightens my skin and changes the texture completely with regular use. When people ask what my secret is— this is it!
LIFE CHANGING
I love this peel so much! It changed the texture of my skin. I use it in between facials and it keeps breakouts at bay and also brightens my skin! If you could only buy one product from AOS please buy this one!
ultimate mask
This mask saves me when i'm breaking out....and the smell. Out of this world product. Couldn't be more perfect.
Great for at home
Love this mask, it not only smells amazing but works great. It does cause slight peeling which tells me that it's working. I like to use this product weekly.