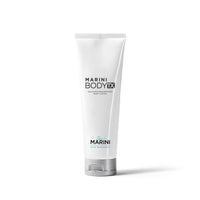 Jan Marini BodyTx AHA & PHA Resurfacing Body Lotion
Jan Marini BodyTx AHA & PHA Resurfacing and Body Lotion is an advanced body lotion that delivers the perfect fusion of multi-acid resurfacing and hydration to elevate your body care routine! This transforming body lotion is formulated with a unique acid combination of AHA (Glycolic Acid) & PHA (Gluconolactone) to exfoliate and resurface the skin, along with the immediate and intensive long-term hydrating benefits of an advanced hydration complex.
BodyTX can help restore your skin's natural renewal process for healthier, younger-looking skin from the very first use!
Jan Marini BodyTx Features & Benefits:
Gently resurface, poh, and smooth the skin
Helps improve rough, bumpy skin
Nourishes, softens, and hydrates dry, flaky skin
Doubles skin's hydration within the first 15 minutes of application
Continued use doubles the water content in the stratum corneum
Supports your skin's natural renewal process for healthy, younger-looking skin
Enhances skin elasticity
Immediate, ongoing, and long-term hydration
Lightweight formula
Great for all skin types
Featured Ingredients:
Glycolic Acid (AHA) – Shown to break down the bonds between dead skin cells to reveal smoother, more radiant, and refined skin texture. Dramatically improves the appearance of dry, compromised body skin and uneven, coarse texture. Helps to resurface, smooth, and
clear rough/bumpy skin on the body. Helps to encourage collagen synthesis in the skin to help improve the skin's firmness and reduce the
signs of aging body skin
Shea Butter – Rich moisturizer. Hydrates and nourishes the skin. Shea Butter contains fatty acids that form a protective barrier on the skin, preventing moisture loss & keeping the skin supple & soft. Shea Butter has anti-inflammatory properties, which have been shown to help calm irritated and inflamed skin. Shea butter is generally well-tolerated by most skin types, including sensitive skin. It is non-comedogenic, meaning it does not clog pores, making it suitable for acne-prone skin as well. Regular use of Shea Butter improves the skin's elasticity, making it more firm and supple.
Gluconolactone (PHA) – Acts as a gentle exfoliant and moisturizer for an ideal complement to glycolic acid. It helps attract and retain moisture and acts as a humectant, helping to provide additional hydration to the skin and improving its moisture barrier function. Has antioxidant
properties, shown to help protect the skin from damage caused by free radicals. Helps to reinforce the barrier with dry/compromised skin.
It helps to improve skin tone and reduce the appearance of dark spots and hyperpigmentation.
Advanced Hydration Complex – Reduces the appearance of wrinkles as it delivers water to the top of the skin in corneocytes. A dramatically effective, natural complex combining watermelon rind extract, Lens Esculenta (Lentil) Fruit Extract, and unripened apple and apple skin in an optimized delivery system.
PRO Tip: Use Jan Marini Bioglycolic Body Scrub in the shower before applying the lotion and exfoliate all dead cells before applying BodyTx.