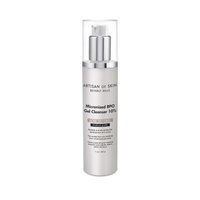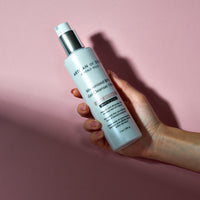 Micronized BPO Gel Cleanser 10%
Clinically proven, non-irritating form of Benzoyl Peroxide, clears pores of acne-causing bacteria and cellular debris within 24 hours. Our highest grade of Benzoyl Peroxide penetrates deep within the pores and fights acne bacteria on contact to clear skin and prevent breakouts.
- Clears pores of acne causing bacteria and cellular debris within 24 hours
- Smaller BPO particle than the traditional BPO, which allows for a smoother application and greater potential for efficacy 
- Particles are approximately 45 times smaller than traditionally milled BPO particles
- Benzoyl Peroxide studies prove it prevents or eliminates the development of P. acnes bacteria and related species
Directions:
Apply cleanser over wet face and work into lather. Rinse with water and pat dry. Can be used twice daily or as directed by physician.
ACTIVE INGREDIENT: Benzoyl Peroxide 10%

INACTIVE INGREDIENTS: Water/Aqua/Eau, Sodium C14-16 Olefin Sulfonate, Stearic Acid, Acrylates Copolymer, Glycerin, Cocamidopropyl Betaine, Glycol Distearate, Cetyl Alcohol, Ethoxydiglycol, Aloe Barbadensis Leaf Extract, Sodium Hyaluronate (Hyaluronic Acid), Allantoin, Panthenol (Pro-vitamin B5), Disodium EDTA, Sodium Hydroxide, Methylchloroisothiazolinane, Methylisothiazolinone
7 oz
Great stuff!
I have a skin condition, and this cleanser is the only thing that helps. Thank you!
Best cleanser ever
This is the best cleanser ! It prevents breakouts post shaving my face! One of my favorite artisan products !
A must have!
I have been using this wash since I came to AOS over 18 months ago, and it has been amazing. I used to get BP washes prescribed to me by my doctor, and they always dried out my skin. This one is phenomenal! I use it daily and haven't had any issues with dryness!
Acne prone? This is for you
I used to use drug store acne products but since revamping my skin care routine, I've noticed a major difference. I use this at night and a basic cleanser in the AM.