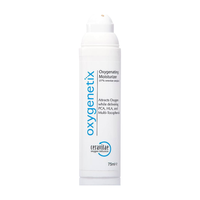 Oxygenetix Oxygenating Hydro-Matrix
This is a moisturizer that cares for your skin. Oxygenating Hydro-Matrix will never simply sit on the surface of your skin and block it from breathing. Instead, this hydrating complex helps deliver oxygen to your skin, replenishing it, as well as delivering fast-absorbing, long-lasting hydration all day. And the aloe vera base is antibacterial and soothing.
Exclusive to Oxygenetix, Ceravitae allows your skin to absorb more oxygen, stimulating skin cell production and helping to heal.
Hyaluronic Acid improves skin texture and restore suppleness. Known as nature's moisturizer, these water-loving molecules replenish lost moisture.
‍
Why do we love it?
Collagen Growth
Promotes growth of collagen, new skin cells and connective tissue in aging or compromised skin.
Reduces Healing Time
Increases oxygen uptake to help reduce healing time.
Breathable Mesh
The same breathable mesh network as Oxygenetix foundations.
For All Skin Types
Suitable for all skin types, including sensitive and post-procedure skin.
How To Apply: Cleanse your skin and apply with clean fingertips over face neck and body to soothe and protect.
Ingredients: Aloe Barbadensis Gel, Glyceryl Stearate, Sodium Hyaluronate, Cetyl Esters, Decyl Oleate, Saccharomyces Cerevisiae (yeast) Extract, Stearic Acid, Sodium PCA, Vitus Vinifera (Grape Seed) Extract, Triethanolamine, Glycerin, Tocopherols (vitamin E), Lecithin, Salix Alba (willow), Centanol, PEG-100 Stearate, Potassium Sorbate, O-Cymene 5-OI, Green Tea Extract
Love it
This is a great moisturizer that doesn't leave you feeling greasy. It's light enough to use in the morning when feeling dry but still gives good hydration. Definitely one of my favorites